"Drug Discovery" – 4D-Workshop of the Fraunhofer Cluster of Excellence Immune-Mediated Diseases CIMD young scientists program
On December 14, 2021, the workshop "Drug Discovery" was held as part of the 4D workshop series of the young scientists program of Fraunhofer CIMD.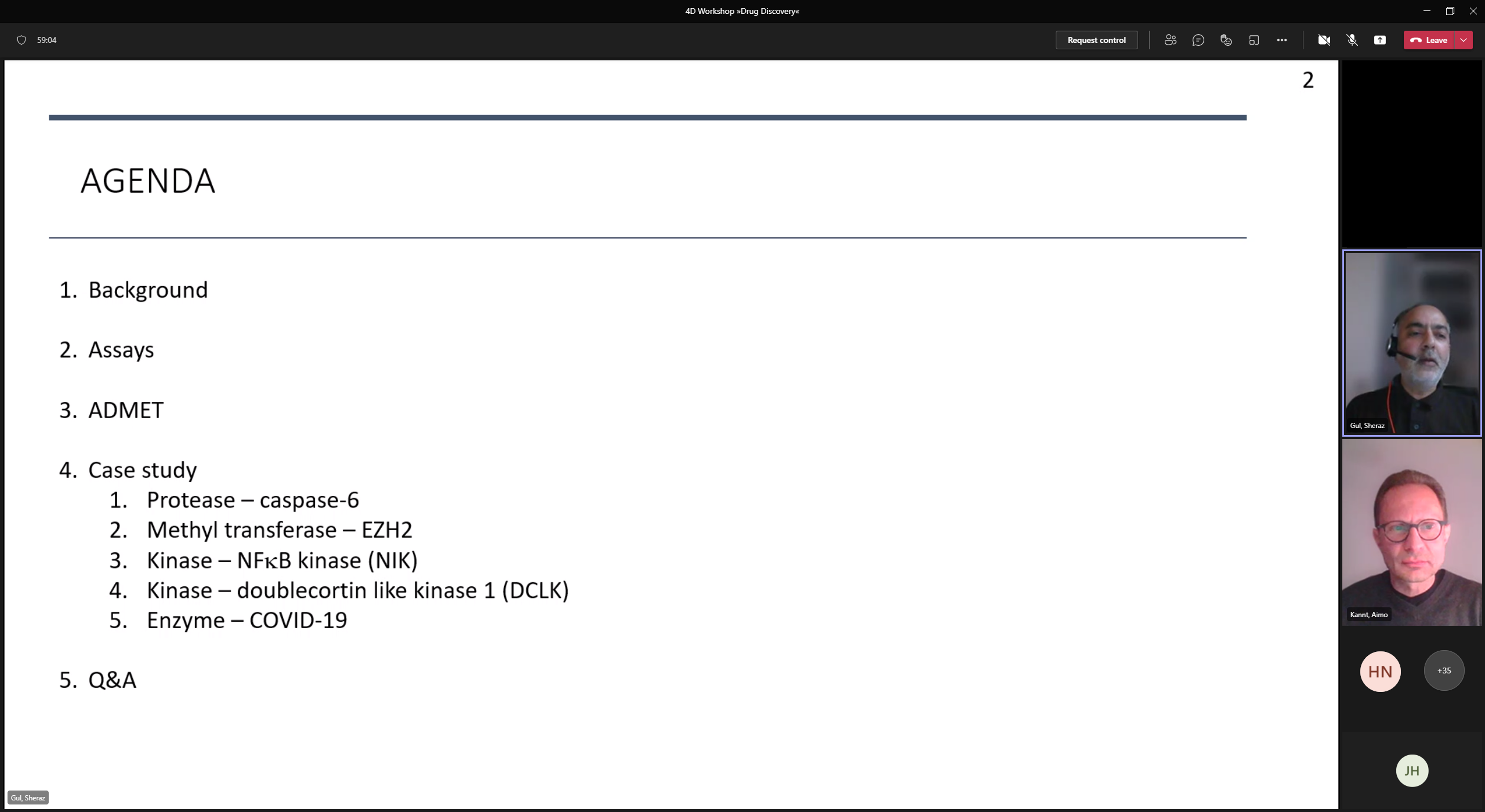 The workshop "Drug Discovery" was organized and conducted by the Fraunhofer Institute for Translational Medicine and Pharmacology ITMP. It focused on topics like drug discovery and development, screening and stem cell models. The participants consisted of employees of the core institutes of the research cluster (Fraunhofer ITMP, ITEM and IZI) as well as other Fraunhofer-institutes (Fraunhofer IGB, IKTS, IPA, IAP, ISC, IGD, IZI-BB, IMM and IAIS).
With a welcome to the participants Dr. Aimo Kannt, head of research division Drug Discovery at Fraunhofer ITMP, opened the workshop and introduced the topic of drug discovery by taking a closer look at the changing landscape.
After a short coffee break, Dr. Sheraz Gul, head of innovation area Drug Screening & Substance Repurposing at Fraunhofer ITMP, presented different assays and ADET (absorption, distribution, metabolism, excretion, and toxicity) in his talk and rounded off his presentation with five illustrative case studies. A presentation on computer-based approaches in drug discovery by Prof. Dr. Windshügel, head of structure-based drug design at Fraunhofer ITMP, followed, where he presented structure-based drug design in more detail and illustrated it with two case studies.
After the lunch break, Dr. Ole Pless, head of stem cell biology at Fraunhofer ITMP, took a closer look at human pluripotent stem cells and their use in stem cell-based assays for drug discovery in his presentation. Dr. Aimo Kannt then explained the risks in drug development and how to manage them. After a short coffee break, Prof. Dr. Michael Parnham, Chief Scientific Officer at EpiEndo Pharmaceuticals, rounded off the workshop day with his keynote speech on the history of drug research.
The research cluster would like to thank all speakers for the exciting impulses and the participants for their active participation. Alltogether, the event was a successful virtual continuation of Fraunhofer CIMD's young scientists program for networking, collaboration and training beyond the participants ongoing projects.